The Spanking Blog
This is an adult site dedicated to the exploration of spanking between consenting adults. The main focus is on disciplinary spankings portrayed in various spanking videos and pictures, with sample pictures and reviews of the spanking content. The most recent blog posts appear below, and the free spanking picture galleries on this site can be found on the menu on the left. All spanking content on this site is free, and any link leading you outside of this site is clearly labeled as such. You must be 18 years or older to view this site.
[ Wednesday, February 13, 2019 ]
Skirts Up, Knickers Down
NOW AVAILABLE AT SPANKING LIBRARY
As the title implies, this video is all about schoolgirls dropping their knickers, and lifting their skirts for traditional school corporal punishment. All scenes involve a young lady in full and traditional school uniforms receiving a bare bottom spanking. The video runs 1 hour and 36 minutes, with 18 different scenes. You will see bottoms blistered with the hand, belt, tawse, ruler, wooden spoon, breadboard, strap, and wooden paddles. Most of these scenes run on the more severe side and some result in tears. As an added bonus I have included the only pussy spanking scene we have ever filmed for a young lady caught masturbating in study hall.
NOW AVAILABLE AT SPANKING LIBRARY

[ Monday, January 28, 2019 ]
Naked, Embarrassed, and Exposed-2019
Now available at Spanking Library
This is the 2019 installment of our most popular series. This video run 91 minutes, with 17 different scenes, featuring seven different models. Each scene focuses on the addition of nudity and extreme embarrassment for their punishments. Each girl is stripped naked and left in exposed and vulnerable positions...before, during, and after her spanking. You will see young schoolgirls stripped fully naked, spread their legs, bend over, and spread their bottom cheeks for the world to see. You will see difficult timeouts, fully naked, with each young lady showing her most private of parts. While every scene does feature very embarrassing and exposed positions, as you have come to expect from my videos, the spankings that are administered are very intense, many leading to tears. If naked schoolgirls being punished in the most exposed positions possible is your thing, then this is the video for you.
https://www.spankinglibrary.com/store.php?id=363
[ Thursday, January 17, 2019 ]
Brand new school paddling PPV
Now available at Spanking Library.. I am pleased to bring you our latest video featuring the most realistic school paddling videos ever filmed. These are some of my latest and greatest clips, with the realism and severity you have come to expect from my work. This video runs a full 90 minutes, with 19 different scenes, featuring 10 different models. Each clip shows exactly how a hard school paddling is applied in principal's offices through the South. Each scene features full force paddle swats applied to the bottoms of naughty school girls, filmed from the butt view and the face view. While all paddlings are administered over clothing, each young lady bares her bottom at the end so you can see the bottom bruising results. You will see exactly how effective severe school paddle swats can be, each young lady leaving with a very bruised bottom, and many scenes lead to very real tears and crying. I see so many producers here charging $8-11 for a single clip. This video is $19, for 19 different scenes, which I feel is a very fair price. So if you are a fan of realistic school paddlings, with realistic scenarios, is zero acting once the paddling begins...this is the video for you.

Now available at Spanking Library..
[ Tuesday, January 08, 2019 ]
Please Vote
Many Vids nominates 100 producers a year for their "Producer Vid of the Year". I am the only spanking producer nominated in the category, as it is mostly young webcam type girls. The funny part, the video that I am nominated for was actually a private discipline session in my home with my baby girl, filmed on my phone, not a studio production. The video trailer can be watched HERE. I am proud of the video, and it shows very private discipline within my home, for very real reasons. If you would like to support me in this, please follow THIS LINK. You can vote once every 24 hours for free and I would appreciate the support. If I manage to win, I will release my top selling 90 minute PPV on this blog for free. Thank you.
[ Saturday, December 08, 2018 ]
Spanking Awards
Please show your support for my two favorite girls in the industry by voting for them in this year's spanking awards. Kiki is clearly the best to enter the scene this year as far as female spankees and has worked with almost every major site. Alice is tiny but tough and deserves the vote for best new female spankee. Voting is HERE.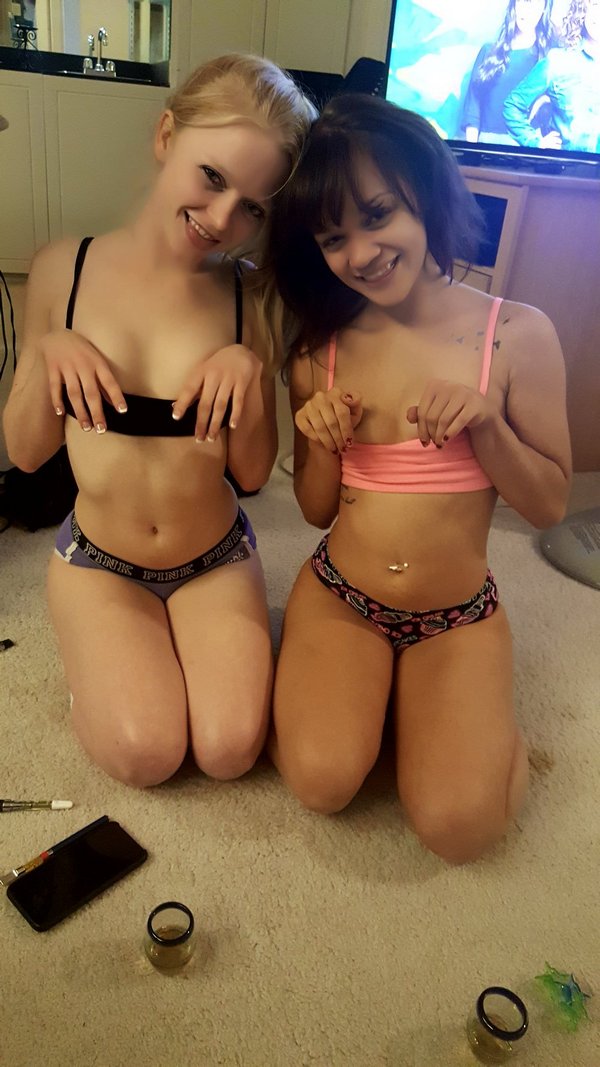 [ Wednesday, May 23, 2018 ]
Realspankings Pass now half price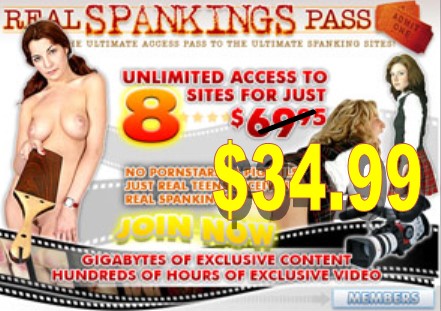 For a very limited time, every female spankee video I have ever filmed, including all current and future updates, now half price. An 18 year catalog of content for $34.99. Signup today at
Realspankingspass.com.
[ Thursday, May 03, 2018 ]
New source for PPV videos
[ Thursday, April 19, 2018 ]
Private Videos
I have begun to release some private real discipline videos on my new Many Vids account. You can take a peek inside my relationship with my real life baby girl Kiki. There are also full-length PPVs and some free videos to watch. You can check them out at my Many Vids store. Previews below.
[ Saturday, March 03, 2018 ]
Corporal Punishment- The Voyeur Files
Corporal Punishment- The Voyeur Files.
Now available at Spanking Library and Clips4Sale
While corporal punishment is generally administered in private, it may not always be as private as it seems at the time. This video is dedicated to those times in which prying eyes get to sneak a peek of very real discipline being administered. Whether it is caught on the school security cam, filmed on a cell phone camera by a sneaky little brother, or maybe just a dirty young lady that loves to spy on a good spanking, you will see get to see punishments that were not intended to be watched.
This video includes 20 separate punishments, with 13 different naughty young ladies, all being punished in the most serious manner. The scenes include the use of heavy wooden school paddles, belts, hand, and one of the most intense bare bottom hairbrushings you will ever see. They are all captured from a voyeur perspective, but each scene also includes a traditional camera angle. If being a fly on the wall during an intense spanking is something that appeals to you, this is the video for you.

Now available at Spanking Library and Clips4Sale
[ Friday, December 01, 2017 ]
Young Ladies Paddled at School
It should be no surprise at this point in time to know that I have a fondness for school paddling scenes. I grew up in Texas where corporal punishment was used at all grade levels, and as a young spanko, this spoke to me in a very big way. While many of you out there really only like to see bare bottom spankings and paddlings (which I also film plenty of), I am a huge fan of very realistic school paddlings. Unfortunately, in the land of the Interwebs, there are not all that many sites doing it the way I like to see it. For me, a proper and realistic school paddling is administered in exactly one way, and it does not involve a warm-up. I fail to recall a single instance of school paddling when I grew up, in which the VP was in some way trying to make the paddling somewhat bearable for the naughty girl. They only had a fixed number of swats to work with, as defined by district policy, so they made every swat count.
Luckily, I have an outlet for such fantasies and I do my very best to film very realistic, and more importantly, very hard school paddling scenes. The concept is quite simple. There is a brief discussion with the young lady in trouble about her behavior, corporal punishment is sentenced, and she is then required to assume the designated position. A heavy, and realistic school paddle is then produced, and she is properly punished for her offense. There is no discussion between licks and the goal with every swat is to bruise her bottom and change her behavior. While most schools I attended limited the number of swats to 4-5, in most of my videos I give between 8-10 swats. I tend to use heavy oak paddles and I always achieve the desired results. While the majority of my realistic school paddling scenes involve a young lady being punished over clothing, after the paddling there is a "reveal", in which she bares her bottom for the camera and shows her bruised bottom. I thought I would take a little time today and highlight some of the recent paddlings I have administered for Realspankings.com and RealspankingsInstitute.com, and if you haven;t been around in awhile, show you some of the new faces at the studio.
These young ladies are Maya and Rae, real life best friends that thought it might be fun to try out being spanking models. They generally shoot together, and to date, they have taken several serious paddlings together. From their "school swats" scene, to being sent to the principal, to be kept after class, they have had their bottoms blistered. Here are a few samples.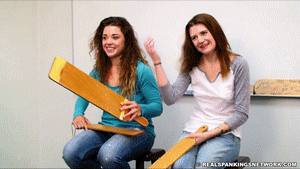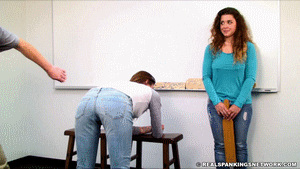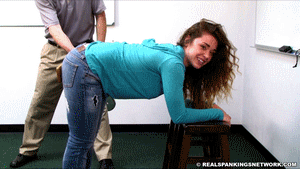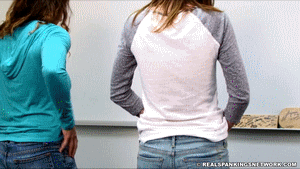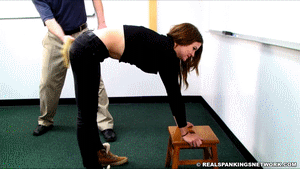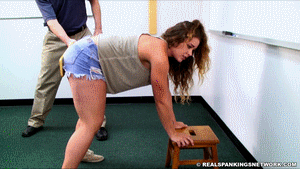 This is Nuna, a dear friend of mine and a hard wired spanko. While she loves to be spanked, at the harder level like my school paddling scenes, it is very clear that she does not enjoy any part of it. When I take the paddle to her bottom, full force, I get tears every single time. This is not acting, this is the real results of a serious school paddling.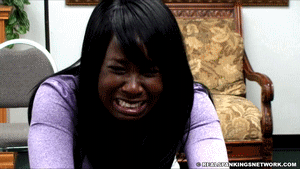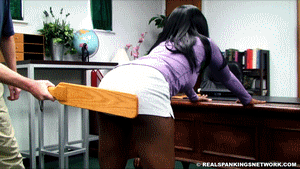 Next we have the young and amazing Cleo, who has the most amazing body, and is just a sweetheart. Another hard wired spanko, she drove all the way from the deep South to shoot with us and she did not disappoint. She took 10 swats for her "school swats" scene, and I laid them on hard. She left with a bruised bottom and a smile on her face.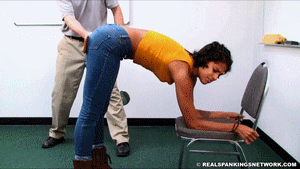 Next we have a newer model, the lovely Peaches. She has the most amazing and tiny little bottom and is such a cutie. She shoots with us many times a year, and being that she is a little bit of a brat, I work extra hard to make sure she gets what is coming to her. She has shot many school paddling scenes with us and always leaves with her cute little bum black and blue. On her last shoot, in which I was paddling her over thin yoga pants, I decided based on her attitude during her paddling that they pants and panties needed to come down, I then repeated the entire paddling on her bare bottom.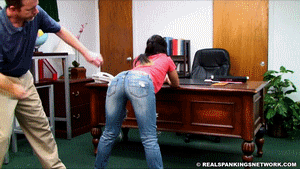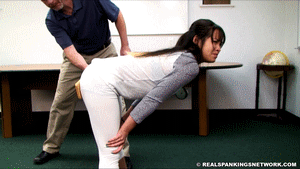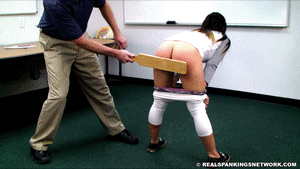 Next we have Syrena, a long time model of ours, that took a couple of years off. Now that she is back, her tolerances are back to square one and she cried during each and every paddling. If you are a fan of real tears and a bruised bottom to sore to sit the next day, the recent Syrena school paddling scenes are for you.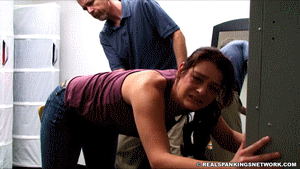 Finally we have the lovely Stevie Rose. Stevie and I have a close relationship outside of the studio, and on occasion she reports to me for off camera discipline. I know her well enough that I am always able to push her limits farther than most models and the scene chemistry is always apparent. All of her scenes are quite hard and the school paddling scenes are intense.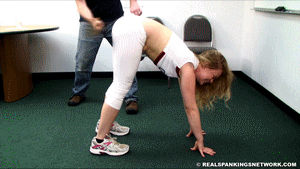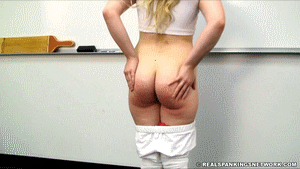 With the exception of the bare bottom paddling scene of Peaches which comes from the member's are of RealspankingsInstitute.com, the rest of these gifs are from the member's area of Realspankings.com. All current scenes are high res, at 1920x1080 and can be viewed full screen at HD quality. Each scene featured the entire paddling shot from both the face and bottom view, with a bare bottom reveal at the end. If hard and realistic school corporal punishment is your thing, and you havenlt checked us out in awhile, we are doing some of better work than ever before.